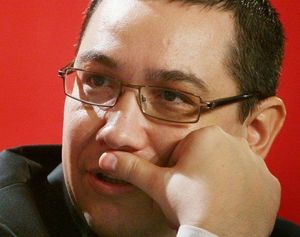 (Photo source) I can't quite get my head around events in Bucharest today and so I'm reserving any comment until things become clearer. For sure, much has been made by the Romanian press of handshakes between Ponta and Voicu, outrageous accusations, insults and mud-flinging from all sides along with Sorina Placinta being blackmailed by Udrea (according to Ponta) to vote against the motion and then locked in Raluca Turcan's office so she couldn't vote anyway. Sorina Placinta herself denies all this, however, so who knows what really happened...
What is factual and what is to be taken with a pinch of salt is way beyond me, so I'll give up trying to make any sense of this bizarre, post-modernist style soap opera for the next day or two.
For the moment, here's a recent article from AFP:
Romania left-wing opposition leader named prime minister
Romanian President Traian Basescu on Friday designated left-wing opposition leader Victor Ponta as new prime minister after the collapse of the centre-right government.
"I have decided to task Victor Ponta with forming the new government," Basescu said in a public address.
"Nothing dramatic happened today, this is democracy," he added, stressing that there was "no reason for panic on the financial markets".
Ponta, 39, was a prosecutor until 2001 when he joined the Social Democrat Party (PSD). In 2004 he became one of the youngest Romanian lawmakers.
He briefly served as minister twice, in 2004 and in 2008, and was elected president of the PSD in 2010.
"I will submit the list of ministers and the government's programme very rapidly," Ponta said.
"I will try to run the government until the elections in a way that gives Romanians hope that things are moving in the right direction," he added.
An open admirer of Bolivian revolutionary Che Guevara, Ponta describes himself as a hardline leftist.
The prime minister-designate has openly criticised the outgoing government's privatisation programme, saying that Romania should not be treated like a colony by foreign companies.
But he has recently said that he would stick to the stand-by arrangement signed by Romania with the International Monetary Fund last year, if he were appointed prime minister.
"Ponta is willing to take advice before making a decision," political analyst Andrei Taranu told AFP.
"This is important because he will head a coalition government and will have to reconcile the ambitions of the three parties" that make up the USL alliance which will back him in parliament, he added.
His mandate will be a short one, with general elections due in November.