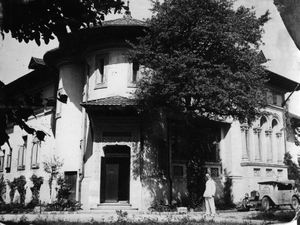 (Photo source: Reptilianul / Hasnas from Radu Miclescu's Archive)
My thanks to the dedication of passionate bloggers for the following historic information of what used to be the very beautiful Casa Miclescu on bdul Kiseleff, Bucharest's most beautiful avenue. Today, Casa Miclescu looks as if it has been hit by an unimaginably vicious tornado. The roof is no more, allowing for snow to pile up in the once stunning ballroom where the painter Mirea lived and decorated the ceilings himself, doors hang off their hinges, windows smashed and frames splintered. It is hard to imagine how gorgeous, how luxurious it was and that anyone could have lived a life of class and elegance within its walls. But they did. Every Thursday, an elegant ball was thrown, attended by personalities of Romania's interbellum period - Cantacuzino, Brancoveanu, Sturdza, Greceanu... It was one of THE places to be and be seen during that Golden Era, now long gone.
This is the story of the Miclescu family, in particular, Colonel Radu Miclescu. And once you've heard it, your heart will weep all the harder for the lamentable state in which the house finds itself today. Casa Miclescu is not one of the houses that 'cries'. Casa Miclescu literally screams in agony.
In this article, we discover that the house was indeed divided, as mentioned above, into seven lots and occupied by different families along with gypsies living in the basement who fought constantly with the Miclescus. One day, after an argument, the 'basement residents' found a valuable old portrait of one of the colonel's descendants and completely destroyed it. Colonel Miclescu was greatly disturbed by these constants rows which hindered their existence, already well beyond miserable.
The largest part of the house was assigned to the painter Stefan Szonyi, previously noted and a favourite of the communist regime. When Stefan died in 1967, his wife and beautiful daughter, Anca (who also had an older step-sister Julieta Szonyi Ghiga, actress today at Teatrul Mic), befriended, developed a sincere admiration for and helped the Miclescu family during the worst period of their lives. It was the Szonyis who stood by the fact that the Miclescus were the true owners of the house. The Miclescus were indeed assigned the tiniest room in the house, formerly occupied by servants.
Colonel Miclescu was a graduate of Saint Cyr, the famous French military school, and a valiant war veteran awarded with the Légion d'Honneur. He fought in Oituz most bravely, was very badly injured and was left with a limp for the rest of his life. He had a war pension that was so miserable he couldn't possibly have survived on it and during this most terrible of times, gave French lessons to students of the 'new class' to get by, one of them Anca Szonyi, daughter of the painter living in the house, too, with whom he and his wife formed a close friendship. Shameful, heartbreaking, that a man who had fought so hard for his country and had been left disabled as a result should be treated in such a brutal manner by the ruling authorities and made to put up with such humiliating conditions. His wife also gave lessons (English?) to help scrape a living.
Elsa Miclescu died during the terribly harsh winter of 1984. There was no difference in temperature outside the house that winter than in. So many were condemned to the cold that year. Elsa caught a chill and there wasn't a doctor who could get to her. She died during the night, admiring Mirea's painting on the salon ceiling. For the colonel, it was an immense loss. He loved her for so many reasons, amongst them, her artistic talent, courage and patriotism.
It is important to mention here that Professor Florescu managed to intercede on his family's behalf. For the last four years of his life, although very thin, weak, his clothing in tatters and increasingly more immobile due to his war-wound and subsequent limp, Colonel Miclescu had food on his table. Through Professor Florescu, the American embassy personnel provided the old colonel, who lived just around the corner, with food and any necessary medicines he may have needed.
Colonel Miclescu's regret that De Gaulle had to resign following the 1968 riots in France must have been overwhelming. Had he stayed in power, perhaps the fate of this family would have been quite different.
This beautiful blogpost from Hasnas.com written in April 2009 captures Casa Miclescu as it once was - here, one can visit the Miclescu family - Elsa and Radu, their friends, the interior of the house from 1902-1948/9 (see photos above for just a few). It is a journey into another world - a world of beautiful dresses, dinners and elegance - now, sadly, gone forever. When one compares how it was with how it is, one can only cry with grief, indignance and rage. How could this have happened? How could such beauty have been so wilfully destroyed? How could the lives of such people have ended so miserably? The history of Casa Miclescu is almost a symbolic parallel of so much of Romania's own history - decency, intellectualism, beauty reduced to dust by the ignorant, the greedy and the indecent.
In January 1990, Colonel Miclescu filled out the documents to reclaim his house. He died in March 1990 at the age of 97 in the tiny room where he had been forced to live for 40 years. The great satisfaction was that he had survived Ceausescu and communism. Despite so much hardship, persecution, humiliation and suffering, he had lived long enough to see the end of both.
(Photo: Casa Miclescu - willful neglect, 2012. Source: Reptilianul)
Regarding the selling of Casa Miclescu to Titi Dumitriu, the author of the very informative blog Hasnas.com went to see Radu Miclescu at his home in Moldova. Here is what she told me: "Radu Miclescu was actually forced to sell the house. Both the house and the mansion in Moldova were still in "litige"/trial - and he was told that, if he insists on regaining this one, he will lose both. He was advised to sell the Kiseleff house, in trial as it was. So, the next day some deputy of the footballer appeared out of nowhere - and bought the house for less then 1/10th of the land's value... He also told me that the beautiful stables of the mansion were demolished just the day before he arrived, when he had already won back the property, just out of pure spite." What can one add. This is a lesser-known fact. I myself wondered why he had sold the villa to such an individual. Now we know and there's nothing left to say that is even vaguely printable.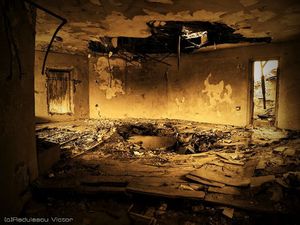 (Photo: Beyond words - 2012 Source: Radulescu Victor Photography with thanks)
This letter was sent to the Minister of Culture on February 16th, 2011 regarding the demolition and destruction of Romanian patrimony, but nothing happened. Just look at all the buildings that are mentioned. Other letters addressed to Kelemen Hunor have since followed but with the same result: nothing.
There is news, however, but I am not sure how believable it is. A very surprising comment on Reptilianul's blog appeared on February 23rd, 2012 from a Herr 'Herbert'. A German citizen, he stated that he himself bought the house in January of this year, and was waiting for the spring to assess the damage and decide whether or not it can be renovated. He says, "Intentia mea este sa o pastrez si s-o renovez!" Looking at the photos of the terrible destruction on Reptilianu's blog, along with those of Victor Radulescu, I pray there is something left to salvage so that renovation may indeed begin if Herr Herbert is indeed the new owner. However, the fact that the supposed 'sale' of this house just two months ago did not make the news and absolutely NOBODY was aware of it makes me doubt that it ever happened. Which thus leaves me wondering why Herr Herbert would have wasted time leaving comments and lying. Curious.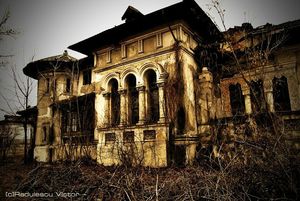 (Photo: Casa Miclescu 2012. Source: Radulescu Victor Photography with thanks)
Spring has arrived in Bucharest. May Easter, only a few weeks away, bring not only the light of the resurrection to every Romanian heart - but also to the very soul of Casa Miclescu and the spirits of all those who lived within its walls.
My thanks to Florina for her passionate research for this post, and to Reptilianul, Dorothee Hasnas and Radu Miclescu, Case care plang and Victor Radulescu for their photographs. Great thanks also to Professor Radu Florescu for all his time and energy spent on the telephone with me, sharing his memories.