(Photo source) Romanian sculptor Constantin Brancusi's (pronounced Brancoosh and not Brancoozy as non-Romanians call him) 136th birthday fell last Saturday, 19th February.
In his 81 years, Brancusi's works include some 215 sculptures and over 1,000 photographs inspired by Romanian folk art and imbued with spirituality.
He grew up in the village of Hobiţa near Târgu Jiu, close to Romania's beautiful Carpathian Mountains, an area known for its rich tradition of folk crafts, particularly woodcarving.
When he was 18, Brâncuși created a violin by hand with materials he found lying around his workplace. Impressed by Brancusi's talent for carving, an industrialist entered him into the Craiova School of Arts and Crafts (Şcoala de arte si meserii), where he pursued his love for woodworking, graduating with honors in 1898. His studies took him to Munich, then on to the École des Beaux-Arts in Paris. In Paris, he was welcomed by the community of artists and intellectuals who were literally brimming over with new ideas. He worked for two years in the workshop of Antonin Mercié of the École des Beaux-Arts, and was invited to enter the workshop of Auguste Rodin. Even though he admired Rodin he left the studio after only two months, stating that "nothing can grow under big trees."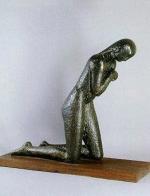 (Photo source: "The Prayer", 1907) After leaving Rodin's workshop, Brâncuşi began developing his own revolutionary style. His first commissioned work, "The Prayer",was part of a gravestone memorial. It depicts a young woman crossing herself as she kneels, and marks the first step toward abstracted, non-literal representation. He also began doing more carving, rather than that which was popular at the time - the modelling in clay or plaster which would be cast in metal - and by 1908 he worked almost exclusively in carving.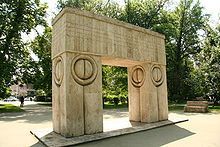 For more on Brancusi's life and works, please see HERE.
(Photo source: "The Gate of the Kiss" at Targu-Jiu and "The Endless Column") In 1938, he finished the World War I monument in Târgu-Jiu where he had spent much of his childhood. "Table of Silence", "The Gate of the Kiss", and "Endless Column" commemorate the courage and sacrifice of Romanian civilians who in 1916 fought off a German invasion. The restoration of this ensemble was spearheaded by the World Monuments Fund and completed in 2004.
In his remaining 19 years he created less than 15 pieces, mostly reworking earlier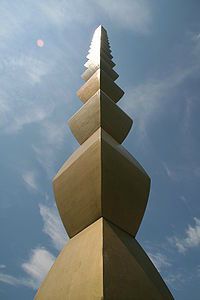 themes, and while his fame grew, he himself withdrew. In 1956 Life magazine reported, "Wearing white pajamas and a yellow gnome-like cap, Brâncuşi today hobbles about his studio tenderly caring for and communing with the silent host of fish birds, heads, and endless columns he created."
Brancusi was cared for in his later years by a Romanian refugee couple and became a French citizen in 1952 in order to make the care-givers his heirs, and to bequeath his studio and its contents to the Musée National d'Art Moderne in Paris.
Back in November 2010, an auction of Brancusi's works took place in Paris. Romania's minister of culture Kelemen Hunor told Agerpres: "This year's budget does not have money to buy either buildings or mobile heritage or items put up for sale or auctioned." This came at a period where a great deal of money was thrown into useless, ugly unnecessary projects that were clearly more important than the heritage of Constantin Brancusi. However, the Casa Muzeu "Constantin Brancusi" in Hobita, where the sculptor lived until the age of twelve, is amongst the most visited tourists attractions in all Romania next to Castles Bran and Peles - and the number of visitors has increased in the last two years. Inaugurated in 1971 and renovated, it became an architectural monument and today displays belongings (documents,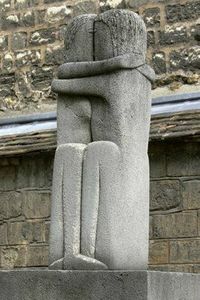 photographs, books, letters) of the Brancusi family along with the original country furniture typical for the beginning of the XX century in Romania. For more on Brancusi's childhood home, see HERE (video and article in Romanian).
(Photo sources: Paris Cemeteries: "Le Baiser" / Sarah In Romania: Atelier Brancusi, Paris) He died on March 16, 1957 and was buried in the Cimetière du Montparnasse in Paris. Statues carved by Brancusi in memorial can be found dotted around the lovely cemetery. The best-known of these is "Le Baiser" ("The Kiss") and endows the tomb of Tatiana Rachewskaïa, a young Russian anarchist, who committed suicide following an unhappy love affair in 1910. Brancusi was commissioned by her parents to create the tombal monument for their daughter. The sublime memorial to Tatiana depicts two lovers entwined. "J'ai voulu evoquer non seulement le souvenir de ce couple unique mais celui de tous les couples du monde qui ont connu l'amour avant de quitter la vie," he said.
A reconstruction of his one-time studio in Paris is open to the public at Place Beaubourg just behind the Pompidou Centre in rue Rambuteau. After being refused by the Romanian Communist government, he bequeathed part of his collection to the French state on condition that his workshop be rebuilt as it was on the day he died. It was indeed, and is a wonderful place to visit of peace and spirituality. Furthermore, entrance is free and pamphlets of information on each work widely available (also free) for all visitors.
Brancusi was elected posthumously to the Romanian Academy in 1990 following the fall of the communist regime.
For more on Brancusi's works and collections, please visit these links to the MoMA, the Guggenheim, the Philadelphia Museum of Modern Art and the Centre Pompidou.