(Photo source: Calin Bota) This is not the first time str. Dionisie Lupu, 70-72 has made the news. Built in 1890, this house was one of the residences of the Vacarescu family - famous boyars, scholars, poets and linguists - intellectuals of Romania, amongst them and to name just a few, Barbu, Elena and Ienachita. Back in 2009, the house was a topic on one or two serious blogs concerning Bucharest's patrimony, history and heritage as well as in the press. An SOS went out once more yesterday via Facebook. After more than a century, this beautiful building like so many others in Bucharest, is about to become rubble unless something can be done to stop it. Not due to natural causes, heavens, no - but by the usual method. Bulldozers.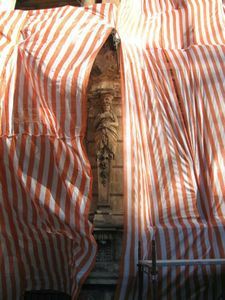 For many decades, this house has figured on the capital's list of historic monuments and continues to do so (MCPNC Decree no. 2328/28.07.2009). Back in 2009, however, annexes in the courtyards of 70 and 72 were demolished. They did not feature on the list of historic monuments since they were considered to have no architectural nor historic value. The main buildings in danger today however ARE listed and therefore any attack on them is ILLEGAL.
Can anyone imagine this happening to Kafka's house in Prague (he had a few), Moliere's ancient birthplace in Paris or Murillo's home in Seville? Of course not. But in Bucharest, admirable personalities of national culture end up with no memorial house while other monuments of heritage and historic value are also destroyed. They are simply demolished (eg. Casa Prager, Casa Simona Lahovary, and the house of General Gheorghe Zizi Cantacuzino - for more info see HERE), left to auto-destruct through wilful neglect (eg. Casa Nenitescu, Casa Miclescu, the home of Bacovia), 'helped' to decay by illegal squatters sent by the owners (eg. Muzeul Spiru Haret, Hala Matache) - often foreign investors who have no idea what they have actually bought or, just as often, shameful Romanian owners who simply don't give a damn - or set ablaze (Visarion, 8) which is, by far, the most efficient way to rid oneself of a house that's in the way. Charges for arson never seem to be brought and a typical example of that was seen recently on str Franceza at Casa Miron Vlasto in the centre of the old city when a building was engulfed by flames not once but TWICE in as many months. The roof was almost completely destroyed - the winter elements will do the rest. The owner is no other than City Hall. The building was not listed and did not belong to anyone famous, neither past nor present, but it had once been beautiful. City Hall own most of str Franceza and it is common knowledge that they wish to build on it. Do not be surprised if the whole street ends up as ashes.
Yes indeed, to be a figurehead of Romanian culture whether it be science, art, history, linguistics, mathematics or even architecture is really quite something. Instead of having school children walking, awe-inspired, through your study and your compatriots remember you with honour and respect, gypsies graffiti your walls, break your windows, pull up your floor-boards and thieves steal anything they think they can sell, particularly metal beams that support a building causng it to collapse - the case at Hala Matache today.
But I digress. Back to str Dionisie Lupu, 70-72: In place of this majestic house, an eight-storey block is planned to be built by the same company who tried to grace Bucharest with the 200m high Dorobanti Tower.... Now there's a happy omen...with taste like that and such concern for the atmosphere and local ambiance, who needs beauty anyway. Hack away!
The annexes of the building demolished in 2009 were authorised by Chiliman, the Mayor of Sector 1 who, incidentally, has been behind rather a lot of demolitions lately - the most recent being Casa Rosetti, also on str Dionisie Lupu a little further along at 53. A notice to demolish has remained on the wall at 70-72 ever since 2009.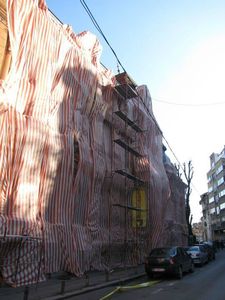 (Photo sources: Calin Bota) In addition to being listed monuments, this area is also a PROTECTED zone. It is NOT POSSIBLE for str.Dionisie Lupu, 70-72 to be LEGALLY demolished. It simply cannot be.
Judging by the photographs seen on Facebook yesterday in an album entitled demolare in pregatire str.Dionisie Lupu7072/18.12.2011 however, preparation for demolition (those cars look dangerously vulnerable) has already begun... And it must be stopped before it goes any further.
The question is, will the owners, SMARTOWN INVESTMENTS, be prepared to risk committing an illegal act, particularly when they know full well that NGOs for patrimony are watching?
An urgent plea from a member of the NGO, ProDoMo: "Please, if you see the slightest sign of demolition taking place on buildings on this street, call the police on 112. They HAVE to go and stop it - or at the very least, verify the documents." She also advises people to take as many photographs as possible and to post information on the social networks such as Facebook.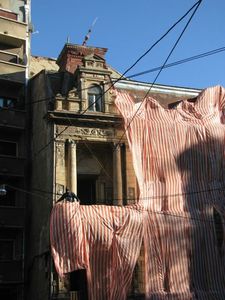 If this is anything like the 'porcherie' performed at nr.53 on 8th November, demolition papers will have either EXPIRED or simply not exist - or even perhaps for another building, another number... who knows how these low-life mitocani work nor what they are prepared to do in order to manipulate and trample all over the law in their determination to destroy OUR city.
You heard the lady - if you see ANYTHING that looks like a demolition going on at str Dionisie Lupu, call 112. It is very possible that 'Apolodor' (the demolition company, extremely active in Bucharest for the last couple of years) will take advantage of the Christmas holiday and reduce the house to nothing whilst your backs are turned. PLEASE do not let that happen. Not again.