(Photo Source: Bad Politics) First off, the expulsions that have taken place in the Buzesti-Berzei area to make way for the Oprescu Highway are completely illegal. There is NO wiggle room for City Hall on this one. Article 578 of Law 202/2010 clearly prohibits expulsions between the winter months of Dec 1 through March 1. The expulsion orders for those that received them (and a few didn't but got bulldozed anyway) took place end of January. Sorry, Mr Oprescu. You are in contempt of the law and everybody knows it. Even me. Add the fact that many of the City Hall-owned studios/apartments the residents were sent to have no electricity or running water, well, that only highlights that this arrogant, urban dictator in rank of Mayor is happy to stomp all over the Roumanian justice system. He and his henchmen not only break any laws they like enabling them to do exactly as they please, but they have no heart, compassion or empathy.
The huge amount of money originally quoted on national television to be doled out to residents for the expropriation of their properties was fiction - and they knew it full well. It was a ludicrous amount that was more in keeping with Paris and London prices than those in Bucharest. 29 million euros has been paid out for the expropriations so far, says City Hall. And that's just for the first chunk. The total will be 280 million euros. For 300 residents? By my calculations, that is 833,333 euros per person, depending on the property. Where is all this money coming from, for heaven's sake? Homeowners have said that those who have received anything at all (and there are few) were paid less than half the market value of the buildings. Shame on you, Mr Oprescu. It also appears in several sources that when expulsion orders were received citing a delay of 72h before the demolitions began, residents pleaded for more time. Mayor Oprescu refused to grant it. Now, I don't care whether notice was given in August, September or October... that makes no difference whatsoever. Expulsions cannot take place from January 1st to March 1st. Gata. There is no orher valid argument.
The cost of this road is now publically known - 2.2 billion euros. How long is the road? 2.7km. This sum is pure extortion... what is it paved with? Gold bars? It makes you wonder...
Salvati Bucuresti has called for the resignation of chief architect Gheorghe Patrascu, accusing him of violating professional principals in his 'obedience' to Oprescu. I wonder how this man sleeps at night. A resignation would be the least he could do.
Historian, academic and professor Dinu C. Giurescu grew up at str Berzei 47. In one interview, he gives a short history of the street and those that lived there. At nr.2, the architect Cezare Dell Debbio built homes for C. Dumitrescu and D. Constantin. Nr 7 , the A. Lesseama House (arch. Schuckerl), Nr.125, the workshop of the painter Stoiescu...
He remembers from his childhood how the street was line with trees, forming welcome shade in summer. In 1916, several bombs fell on str. Berzei near nr.49 and on April 4th, 1944, the first bomb from an American bomb-raid fell on a basement just opposite killing 47 people who had taken refuge there.
The most valuable segment, he says, is the area from Stirbei to Plevnei, and this is part of the city's traditional, national heritage. This heritage suffered massive destruction over 80 years of 'systematisation'. 29 other cities have experienced a rate of 85% demolition - these are true, hallucinating crimes against Roumanian urban identity.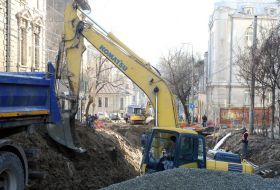 (Photo source: Romania Actualitati) Today, we are witnessing a second 'systematisation' of Bucharest, which has accelerated since 2005. Its new face sees towers rising up to twenty floors in architectural zones replacing buildings of historical and architectural value. They are spilling into neighbouring areas - look no further than the recent Roman Catholic Cathedral, St Joseph's.
The segment affected by the demolitions included a mass of buildings of traditional architectural heritage representative of the capital. Now they are gone. Hotel Marna, the Nicolae Dobre House, the Constantin Radulescu House, The Dacia cinema, the house where the national poet Mihai Eminescu lived with Veronica Micle to name just a few...all gone. Gone forever. Irreplaceable jewels impossible to rebuild, impossible to replicate. Hala Matache comes next if it hasn't gone already. Twenty storey eye-sores will replace them. Bucharest is being deleted. An inestimable cultural value belonging to the Roumanian people has disappeared in the hands of the Mayor of Bucharest, Sorin Oprescu. The man has no Roumanian culture and no respect for it. This is how City Hall 'manages' historic Bucharest.
(Photo source: Gândul Anonimului)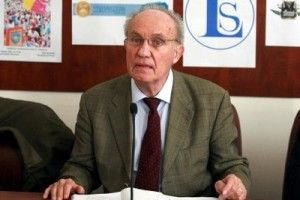 Dinu C. Giurescu is named after his grandfather, Constantin, who lived,as previously mentioned, at str. Berzei, 47, destroyed by Ceausescu. He carries the 'C' in his name proudly in memory, and spent his childhood in this house. He said, "We know the roads are congested but that does not justify returning to Ceausescu's demolition process of the few remaining historic streets left in Bucharest. There are monuments on str Berzei - noble, nostalgic and beautiful. The street is a sample of Old Bucharest which, by some miracle, survived [zic Nicolae Ceausescu's urban planning]." Indeed they did survive Ceausescu - but they have not survived Oprescu.
Does Oprescu realise what he is doing? Does he have any idea how loathed he is? Does he not give any thought to what he has done to Roumanian culture, history, architecture and patrimony? To the Roumanian people? Does this man have any conscience?.I think not. He is blinded by money and his own self-importance. Indeed, Roumania's latest urban dictator in a Mayor's position. How could this cardiologist break so many hearts?
A kind word from City Hall: "Primaria Municipiului Bucureşti le multumeste riveranilor si participantilor la trafic pentru intelegerea fata de disconfortul creat in timpul executiei lucrarilor." Mda...
A press conference is to be held on Monday 21st February when a statement will be given by The Alliance for a Clean Bucharest, on the subject of the criminal proceedings against Oprescu and judicial decisions made. It will be attended by Professor Alina Mungiu-Pippidi and representatives of the Platform of Bucharest. Please, if you care anything about what happens to your city and its heritage at the hands of this man, go congregate in front of the Romanian Academic Society, str Eminescu 61, sector 2 (parallel with bd. Dacia) at 12h. Those who started this project should all be sent to the nuthouse. The cameras will be there and with them, there will surely be journalists. Go and make yourselves heard. Make billboards, placards, posters and stand up for old, poetic beautiful Bucharest, the beloved city of my heart. If you do not care enough to make the effort, then no one else will. Monday. 12h. Be there.