This post was written in 2011.
(Photo source)
Vasile Paraschiv, Roumanian anti-communist dissident and one of the most courageous, decent human beings from those terrible years died in Ploiesti from heart failure, aged 83, on 4th February.
Born on April 3rd 1928 in Ilfov county, Vasile Paraschiv was one of the few who chose to protest against the evils of the totalitarian state. One of his first gestures of rebellion was to withdraw his membership from the Communist Party in 1968. Bravely, he openly opposed the regime, calling for rights to freedom and declared that the nomenclatura was subjecting ordinary citizens to terrible abuse throughout the country. In 1971, he tried to establish a Free Trade Union of Workers in Roumania (SLOMR) and in 1977, joined the Paul Goma Movement for human rights in Roumania for those constantly violated and persecuted by the communist totalitarian regime.
Communist authority reactions to these calls for courage and conscience was dreadful brutality. Vasile Paraschiv was kidnapped, tortured three times and 'admitted' to several psychiatric hospitals for 'rehabilitation' under what is today known as 'psychiatric repression' in an attempt to portray him as mentally disturbed. Later, he and his family were placed under strict supervision until the collapse of the regime in 1989. Paraschiv's letters to Radio Free Europe continued, however, to get through. They revealed the appalling injustice and abuse carried out by the Ceausescu regime to the entire free world .
Vladimir Tismaneanu said, "Vasile Paraschiv symbolises that even through their treatment, they could not annihilate everything. For him, the essence of communism was a lie, a duplication, a denial of human rights."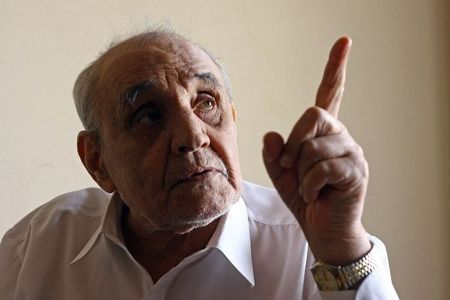 (Photo source EVZ) Since 1989, Vasile Paraschiv was personally involved in the recovery of witness statements to reveal the truth about totalitarianism in Roumania from 1945. He published several books, gave interviews and educated the young on all he had suffered, seen and survived. He was a devoted supporter and friend of The Association of Former Political prisoners in Romania. (taken from source HERE)
All I can find in English is the article below from France 24 (please watch video), written back in December 2009, ...I'm hunting for more. As a journalist friend just remarked, "there's only one decent human being left here now - Doina Cornea." The hell that Paraschiv suffered (like many) at the hands of the dreaded securitate under communism (persecuted, imprisoned and tortured) will doubtlessly never be tried in a court of law. The torturers will never pay for their crimes against him or anyone else, which suits all those in positions of power very nicely - bine mersi.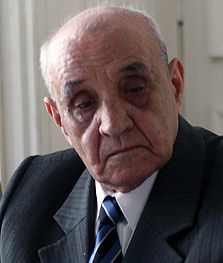 (Photo source: Front News) Vasile Paraschiv refused the The Roumanian Star distinction (rank of Knight) back in 2008 on the grounds that he was unable to receive such a token from President Basescu, a former communist like all the others who have ruled the country since the revolution and whom he had fought against all those years. He said he was not a dog who could be tamed with a bit of salami. He continued, speaking publically to the audience that evening at Cotroceni, "I want justice and truth for the entire nation. This is what you promised your people in November 2004. You reeled me in like a magnet but you didn't keep your word. You lied and misled me - me and the entire nation - with your broken promises." Basescu thanked him for his speech and added that he was always welcome at Cotroceni. yeah, right. He also said that the award came not from himself but from the Roumanian people. Nevertheless, Paraschiv stoically returned the award at the end of the ceremony while others hung onto theirs (Radu Beligan, Nicolae Manolescu, etc...).
Vasile Paraschiv never gave up the fight, never allowed a hatred to fester or consume him but used it instead to spur him on. He never veered from his struggle for truth and justice and never ceased in his defiance against the regime which had murdered and tortured so many. God bless Vasile Paraschiv. God bless the rare men and women still remaining from that dreadful period, who had and have more courage in their little fingers than most of us have in our entire bodies. I bow my head to you, Mr Paraschiv, and pray that at last, you may rest in peace.
Twenty years after fall, ghost of Ceausescu's gov't still haunts Romanians, France 24
AFP- Romania is marking 20 years since the fall of Nicolae Ceausescu but many victims of his despised communist dictatorship are still waiting to tell their story in court.

For 45 years the brutal regime executed, jailed and persecuted Romanian dissidents, yet very little was known of their suffering.

Toppled in a popular uprising, Ceausescu was sentenced to death in a trial lasting a single day, on December 25, 1989, which shed no light on the regime's dark secrets.

Two decades on, the truth is finally emerging thanks to films, books and the exhumation of murdered dissidents, but victims are still waiting for justice.

Vasile Paraschiv, a spry 81-year-old from Ploiesti north of Bucharest, is one of them.

The former postman joined the Communist party in 1946 but resigned in 1968 to set up a trade union. That is when his troubles started.

He was kidnapped and tortured three times by the dreaded secret police, Securitate, who tried to cast him as mentally disturbed. "But I managed to survive," he told AFP.

In 1989 Paraschiv hoped for justice. Now hope has turned to anger.

"Where is justice? Today, if you injure someone crossing the street, you are immediately prosecuted, but those who beat and tortured me cannot be tried!

"High ranking ex-Securitate members have big pensions while I have to survive on 165 euros a month," he complained.

Paraschiv's torturers are protected by Romanian law.

"By law, the statute of limitations has expired for these crimes and they cannot be prosecuted," general prosecutor Laura Kovesi told AFP.

Sons and daughters of executed rebels have run into the same obstacle, as have former political prisoners.

"There have been many trials linked to the 1989 revolution itself, but the courts have remained silent on the crimes of the communist dictatorship," wrote the historian Raluca Grosescu in a recent book.

For any trials to take place, the Romanian government would have to lift the statute of limitations for communist-era crimes as the Czech Republic has done. But no leader so far has dared.

Romania is not the only country to have avoided painful trials as it emerged from dictatorship. Spain also chose to forget rather than prosecute after the end of general Francisco Franco's dictatorship.

But for Marius Oprea, director of Romania's Institute for the Investigation of Communist Crimes (IICCR), trials are essential for victims to heal.

"Until the former torturers or killers are brought to trial, the fear will remain in the victim's mind."

"Events are called back in the courtroom as if on a symbolic stage, to deactivate them, throw them back in the past.

Trials are just one part of facing up to the past.

Romanian film director Cristian Mungiu was awarded the Palme d'Or at Cannes in 2007 for "Four months, three weeks and two days", a harrowing account of a clandestine abortion, common under Ceausescu's pro-birth state.

And the IICCR and its 30-strong team of historians are now working to exhume the bodies of dissidents who fought communism in the mountains and countryside and whose bodies were dumped in anonymous graves.

Researchers aim to return the victims' remains to their relatives to allow for decent funerals.

Romanian president Traian Basescu officially condemned the crimes of communism in 1996.

Three years earlier, dissident poet Ana Blandiana founded a memorial to the victims of communism in a former jail, the first of its kind in eastern Europe, to teach Romanian youths about communist-era repression.

"Communism's greatest victory was to create a people without memory, a brainwashed people unable to remember what they were, what they had, or what they did before communism."

"Creating the memorial is a way to counter that victory," she says.

But to truly settle scores with its past, many observers believe Romania needs a revolution of the mind, like the one that gripped Germany in 1968 and helped it face up to its Nazi past.