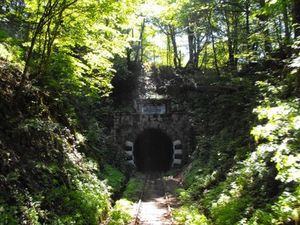 (Photos from Banatul de Munte) How sad (and frustrating) to read HERE that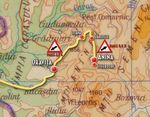 the CFR have decided to close the railway stretch between Oravita and Anina (Banat) because it is 'unprofitable'... Not only is it one of the most spectacular mountain railroads in Europe and thus would be a great national loss, but there are villages which would be cut off without it, and increased unemployment would be added to these areas in the event of such a tragic, erroneous decision. The Oravita-Anina line is a national treasure with a proud place on the National List of Monuments - and yet even that doesn't seem to bear any weight when it comes to making money, as we have seen time and time again in Bucharest with the very frequent mutilation of patrimony and heritage.
Built in 1847-1863, it is the oldest railway on Roumanian territory and runs 33.4 km in 2 hours.... An exceptional technical achievement, it is one of the very steepest lines in all of Europe and with such stunning landscape that it is often compared to the Austrian line Semmering, on UNESCO's list of world heritage sites.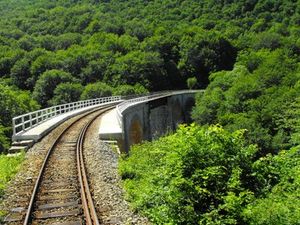 The Association for Roumanian Industrial Archeology (AIR) has appealed to CFR and other deciding foruns for the continual use of the Oravita-Anina railway... let's hope they are successful.
'Unprofitable'??? Doesn't the government realise the gold-mine this railway could be? Why, in a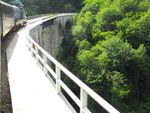 country of such natural beauty and tradition, is it so impossible to see the marketing possibilities?! It never ceases to amaze me how tourism is so very badly managed and commercialised. Here we have a railway line that provides transportation and trade to remote towns, offers jobs to those living in the villages envelopped in the most beautiful, awe-inspiring backdrops of stunning scenery. Not only the oldest railway in Roumania but also one of the steepest, it should be as much visited and admired at least as the Trans-Fagarasan in Transylvania. It provides jobs and symbolises a life-line to many Roumanians of this region in the Banat.
The ministries of Commerce, Tourism, Transport and Employment would be far better advised to work together and turn this superb line into a real honey-pot. If it is unprofitable then it is entirely the fault of these ministries who clearly lack vision, imagination and creativity (look no further that the plagerised logo for Roumania to advertise the absurd Carpathian Garden). Railways are fabulous tourist attractions, particularly if they are steam, slow,
historical and running through marvellous landscapes such as the Oravita-Anina. Everyone loves them from children who adore watching the steam spiralling backwards and up, up and away, to train enthusiasts, trekkers who can't walk anymore and those who fancy a day out without having to drive, with history and awe-inspiring views thrown in. Hellooooooo?!!!! To close it would be a grave mistake, not only for patrimony, respect and heritage but also for what COULD be made of it. Elena Udrea has such a marvellous job. I would love to be the Roumanian minister of tourism! There is so much to optimise, so much to boast about and so very much to cherish. This stretch of railway line is just one of many...
All photos taken from Banatul de Munte