A friend of mine told me about this last year, but I thought she'd fallen on her head so I didn't take her seriously....!! During a chatter on FB, the subject came up again. Once more, I thought I was dreaming. What am I gassing about this time? The Eiffel Tower and Soutforkescu in Slobozia, that's what!
Read this from the Croatian Times (I still hope I'm dreaming!!):
Dallas
croatiantimes.com
For the Romanian millionaire who built a real-size Southfork, at Slobozia, southern Romania, the Dallas dream was over long ago.

Ilie Alexandru was sentenced to 12 years in jail in 2001 and was conditionally freed on 11 February 2009, for good behaviour.
He was sentenced to jail for fraud after his company never delivered some 5,000 tons of "mustard plant" to a German buyer, although he had paid for it. He also took large loans from banks and was accused of other fraud with cereals - like wheat, barley.

All his properties - including the Dallas complex in Slobozia - have been seized by banks and creditors.

The Southfork ranch in Slobozia - copies at large scale, even 20 per cent larger than the ranch building in "Dallas" - including a zoo and a copy of the Tour Eiffel - was also visited by the actor who played J.R. Ewing - Larry Hagman, in 2000.

The Southfork farm was also mentioned in the Armand Assante starring movie "California Dreamin'", by Romanian director Cristian Nemescu (2007), as they exotic place where the American soldier were taken to have fun. The movie was awarded the "Un certain regard" prize at the Cannes Film Festival in 2007.

In an interview from jail, in 2005, for Academia Catavencu, Ilie Alexandru said :
"I admired J.R., but I was like Bobby. The Bobby inside me finished me."
He said he had "bags of money", and he was disappointed with Larry Hagman, when he saw him at his ranch in Slobozia.

After being released from jail, Ilie Alexandru has started a new business with cereals, according to media reports.

The Dallas entertainment complex still exists - having new owners. The complex has several hotels and restaurants - under the name Hermes. One of the hotels is named "Dallas" and it offers accomodation for prices from 21 to 31 Euros/night.
and here's more from The Dallas Observer Blog:
Dueling Southforks
By Robert Wilonsky
"Southfork Dallas in Hermes Land" is a cross between an amusement park and a resort based on the Southfork ranch including a 132-foot-tall replica of the Eiffel Tower, vernacular gypsy pagodas and castles. The Southfork Ranch in Slobozia is a sort of do-it-yourself reconstruction, interpreted from videotapes of the television series and books on the architecture of the American South.
I mention it only because The Austrian Times, to which I canceled my subscription years ago, reports this morning that after a shootout with Romanian police in '01, Alexandru -- who "used to stride around the estate in cowboy boots with a JR-style 10 gallon hat and six-guns" -- was jailed and the property seized. It was then sold off to repay some debts, and has just been "converted into a luxury hotel for fans of the series." Because, after all, Dallas did change the world.
Ah, and speaking of that November '08 clusterfudge at Southfork, there's a new DVD chronicling the whole wingding, including a cast dinner at the House of Blues and a sitdown with Gary Cogill. Here's the trailer: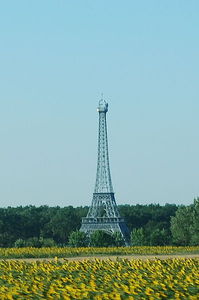 And as if that isn't enough, there is indeed a 54m Eiffel Tower too, built in July 2010 by Andre Stroe and commissioned for the Viorel Alexandru Estate. It's part of a private tourist complex - this took even more believing than Soutforkescu. Thanks, Emil! Had it not been for you, I would never have had such an initially shocking yet progressively more amusing few hours researching both the ranch and the tower.... I was told jokingly, "now you really have to come back to Romania to see this!" Yes indeed, but I don't think this'll be on my itinerary! You've gotta hand it to Romanians - they really do have a fabulous sense of humour.
Hallucinating...
​