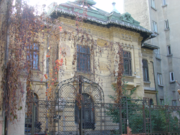 It is truly horrifying to see that beautiful house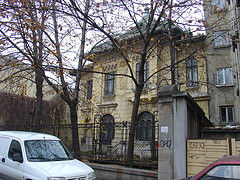 on str. Scoalei, 8 in such a terrible state, looted and vandalised repeatedly as it stands there empty, its fate uncertain.
A battle to save the house has been ongoing for the last year. In February of this year, the Artrad Association requested that it be classed urgently as a building of national heritage in order to protect it from demolition. No reply was given. An impressive campaign was launched by TVR, the Association of Architects, Jurnalul National, Save Bucharest and Artrad, resulting in an agreement from the minister of culture, Virgil Nitulescu, to indeed add it to the list of classed properties in the capital. However, this is Bucharest, and nothing is ever straight forward. If I understand correctly, the director of national heritage attached to the ministry of culture appears not to have the budget for necessary evaluations and assessments. The president of Artrad e-mailed me the following explanation: 'Theoretically it must be safe...But in practice, due to burocracy and the corruption of DCCPCNB (Direction of culture and national culture patrimony - Bucharest) - a subsidiary of Culture Ministry, the elementary obligations stipulated in 422 / 2006 Law of Patrimony aren't applicated: owners attentioning, delimitation of a protected area and the placement of a little plaque mentioning quality of patrimony objective (with consequent measures for local police).' So there it stands, an easy target for thieves and vandals.
Please take a look at the televised campaigns (TVR). Even if you don't understand Roumanian, it makes no difference. It's pretty obvious what's being discussed and it's important that you see the house.
http://www.tvr.ro/articol_print.php?id=39971
http://www.tvr.ro/articol.php?id=41014&c=99
This marvellous property has been ripped apart. Its stoves in faience have been smashed to pieces, the material on the walls slashed, remaining furniture either stolen or destroyed...and for what ends? What in God's name makes people do such foul things?
The house, built by Dumitru Nenitescu (1861-1930), father of one of Roumania's greatest chemists Costin Nenitescu who lived there until his death in 1970, is Neoromânesc in style. The ceilings are beautifully decorated with Ruffer faience and the loveliest sculpted doors and windows are still visible in rich wood. Below, you can see how spectacular it was in bygone days: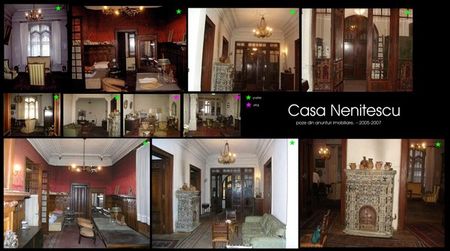 This evening I received shocking photos of what this sumptuous house has become. Just look at the stove. It breaks my heart: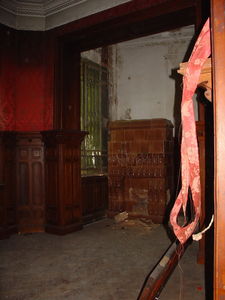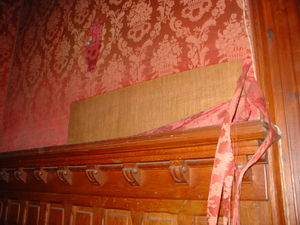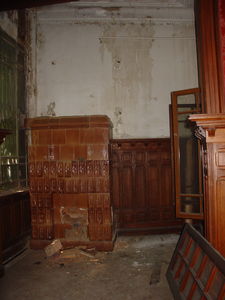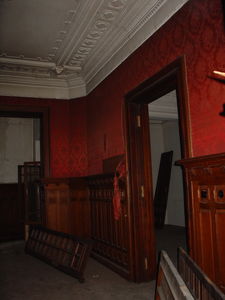 This is a country of such rich history, of such profound national heritage and beauty. What do we see on the boulevards? Rows and rows of ugly communist blocks, grey, drab, desperately in need of a facelift... yet hidden in the side roads off the beaten track are houses such as these with orders of protection and yet none is given. Bucharest risks losing its beauty altogether if something isn't done. Isn't there any kind of international intervention that could be launched? I have no idea of such things. You journalists out there reading this blog, DO SOMETHING! Write, shout, make more documentaries.... Here in Roumania, most people have given up shouting and striving for improvements for they no longer believe that things will ever improve. They no longer believe in the words of politicians (and rightly so), the promises of manifestos and the rays of hope that exist for us all. In consequence, lives remain largely unchanged and the fatcats at the top of the ladder line their pockets with others' misfortune, profiting on the backs of the honest population who work so hard for so little at the end of the month. It's an outrage. These properties of huge historical and architectural value are a memory as well as a very physical link to better times and optimism. Not only should they be saved from a bricks, mortar and historical point of view, but also for their rich beauty. To walk past something so lovely, stop and sigh for a moment does your soul good. If you could see the horrors of so-called 'modern architecture' cropping up all over the place at a terrifying rate of knotts on land that used to house properties such as this, you too would mourn the loss of culture and memory as you would mourn an old friend.
I don't know what to do about it, have no idea how to react, where to go, who to e-mail, what petitions to sign. But I do know that we can't just sit back and do nothing.
Awaiting comments, disturbed with hackles up.