Dear Everybody,
The time has come to tell you a little about another colourful Roumanian personality, Prince Barbu Stirbey (1873-1946). Why? Well, frankly why not. And because he was quite a character. His mother was Maria Ghika-Comanesti (important to remember when I tell you about an admirable baroness later on), father Prince Alexandru Stirbey and he was grandson of another Barbu Stirbey (born Bibescu and adopted Stirbey), Prince of Wallachia and died in 1869. Quite well connected, wouldn't you say? He married Princess Nadèje Bibescu in 1895, and had four daughters.
He is best known for his role as 'close confidant' to my beloved Queen Marie of Roumania (far right), wife of the rather

drippy King Ferdinand. Let us be frank - Barbu and Queen Marie were in fact lovers. King
Ferdinand had never been a handsome man, and following a serious illness (typhoid), she perhaps needed a little more entertainment than he could offer. Prince Stirbey was probably the real father of Marie's youngest child, Prince Mircea (left), and quite possibly that of Princess Ileana (immediate right), too.
He was very discrete in his relationship with Queen Marie. As an administrator of the royal domains, he could pretty much come and go as he pleased, until, that is, the Queen's ladies-in-waiting started to gossip.
The Stirbey family had a great deal of property, not least the palace on calea Victoriei, another in Buftea which can be visited today and a third in Brasov - I went to visit it with Lidia at the weekend, if you remember. His descendants have sold it off to an Asphalt Bigshot and the rest is too sad to relate (see past blog 'Weekend in Brasov' for more info). He certainly was a very enterprising catch, a most accomplished businessman. Well mannered, good looking - a gentleman of the time. He was even Prime Minister of Roumania albeit briefly, in 1927. He died in mysterious circumstances in 1946 after attending a reception at the Russian embassy in Bucharest.
So, there's a bit of old scandal for you which undoubtedly shook the very flagstones of Peles Castle when the echoes of the corridors became common knowledge.
In 1946, Prince Barbu's daughter, Princess Maria Stirbey, inherited the vineyards in Dragasani, belonged to
the family since the 17th century. After the national expropriation in 1949, it carried on as a national wine producing industry. The vineyards were restored to the heirs by the state in 2001 and Baroness Ileana von Kripp, granddaughter of Princess Maria Stirbey, has been looking after it ever since and pretty wonderfully too.

Ileana von Kripp is a fascinating lady with a history from which rivetting novels are made. Daughter of Maria Emanuelle Bratianu and Alexandru Costenescu-Tatareanu, her grandfather was Gheorghe Bratianu on her mother's side who died tragically and quite terribly in Sighet and her paternal grandfather was at some point, says Nicole, Minister of Finance. Born in July 1954, she lived in Sinaia until the age of seven, when she and her family moved to Bucharest. She married Count Michael von Meternich, "a modern-day Jules Verne", as she descibes him, in 1974 aged twenty, and the Austrian Baron Jakob von Kripp some twenty years later in 1997 (left).
Ileana fled Roumania on 23rd August, 1969, a date which according to Ralea, is significant to any Roumanian, for it is the day the country was 'liberated' by the Russians after the 2nd World War. She explains her leaving was thanks to Henri Coanda, the celebrated scientist, who was living in Paris at that time. Her grandfather was great friends with him and as Roumania wanted Coanda back to show that the exiled Roumanian inteligentia actually yearned to return to their country of origin, he had a bit of leverage. Very seriously ill with terminal cancer, and knowing he didn't have long, he told Ceausescu that he would return on one condition: the country would liberate 54 people. On this list were Ileana and her father. Her mother had already left for Italy a year earlier, also with Henri Coanda's help, and from there emigrated to America. So, the 23rd August saw Ileana and her father making their way to Baneasa very early in the morning. However, nothing could ever be that simple. They were stopped in the street by police. Her father was forced to hand over his papers and remain in the country for a further 6 months. Ileana continued her journey alone clutching her small suitcase holding two jackets, two dresses, two pairs of shoes and a pair of trousers.
Coanda had found her a place at 'Notre Dame de Sion' in Paris, a boarding school with a Jewish founder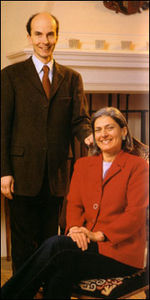 converted to catholicism. The school catered for students of all backgrounds. Poor Ileana thought she'd never return to Roumania ever again. Until she finished her studies, she was supported by money sent by her mother and helped by relatives in Paris. She was finally reunited once more with family in Germany a few years later. How hard it must have been for her to be separated from them. She missed them and Roumania terribly. Under the communist regime, culture had been crucified - she found it once again in France. She says that in Roumania, everyone and everything was depoliticised and depersonalised. Dehumanised, in fact, would probably be the right word. In the West, Ileana found the freedom to think, the freedom to receive an unbiassed education - something we take so much for granted. She could use her surname without the humiliating taunts from teachers, without persecution, without fear of being singled out, ostracised and insulted with common phrases such as 'burghezo mosiereasca' which still makes some peoples' skin crawl just hearing it again after all these years.
Having finished her studies in France, she moved to Bonn, Germany. She says that history has helped her better understand human mentality. After all that she suffered as a child because of her 'aristocratic' connections, she is a very forgiving woman.
Post-honeymoon in Roumania in 1997, she and Baron Jakob decided to settle in her former family home in Dragasani and rebuild its vineyards and wine business. It seems that the Baron fell in love with Roumania. You see, many of us do! It's not such a bizarre state of affairs. They have poured so much into it, investing, doing most of the work themselves, at first with reticence from the villagers but now completely accepted.
So, you see, an impressive family. For more info, please see the following links:
http://www.presa-zilei.ro/stire/3038/baroneasa-oltenia.html in Roumanian (excellent article)
http://www.thediplomat.ro/natday_1005.htm scroll down for article on Ileana and her vineyards
http://www.stirbey.com/page,20,en.html on the vineyards and Stirbey family
http://www.qmagazine.ro/modules/articles/articles_display.php?a=551 in Roumanian
I'm going out now to buy a bottle of Stirbey wine in her honour. What a very admirable and courageous woman. Noroc si sanatate!
Love, Sarah