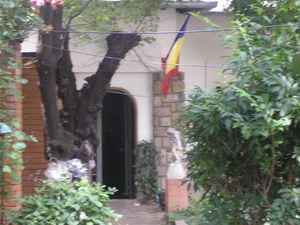 I went for a walk on Thursday beginning with the memorial house of George Calinescu (literary critic, author, historian to name a few of the strings to his bow). It's a lovely little house comprising of two rooms, books from floor to ceiling and paintings that fair made me jaw drop.
On the way out, half way up the garden path, my attention was drawn to a certain sculpture of Calinescu. A caricature to be precise. It reminded me so much of our 4 friends - the statues in front of the house on str. Rabat. Exactly the same style and humour. Who was the sculptor? I asked the guide, a little lady with a speech impediment and a force to be reckoned with on anything concerning Calinescu, for she knew everything from dates to book titles off the top of her head. She said it was by Oscar Spaethe.
I went at once to str. Rabat. Indeed, the style was so strikingly similar that the four statues could really only have been done by the same person. But how to find out? Each time I've been here there has been no one to ask, and I've popped round many times, so enthusiastic to find someone who could tell me the history of the house and afore-mentioned statues.
As I was very unelegantly climbing over a hedge to check one final time for a name
or some hint of identification, a voice from the deep boomed "who are you? What are you doing?" Down in the basement with a window just under my skirt was a man. "Er...I'm looking for info on these statues," I told him. "Who are you?" he asked again. "Well, I'm fascinated by these four busts," I blustered, "and have been for a long time. Do you know anything about them? I've just been to George Calinescu's memorial house and there's one in the garden sculpted by Oscar Spaethe which reminds me so much of these..."
And what do you know? They were indeed sculpted by Oscar Spaethe, for this very house on str. Rabat had once been his. He studied in Munich with the likes of Han and Storcke and died in 1944 (luckily perhaps, or the communists would probably have thrown him in prison). The caretaker (I suppose he was) explained that the ladies were Spaethe's two wives and the fourth one which Nicole affectionately named Jules, is none other than the epigrammist Cincinat Pavelescu.... So there. Now we know. Mystery not quite solved though. We still don't know the names of Spaethe's wives, so we will continue to call them as Nicole always has: Iolanda and Mathilda. If anyone knows anything about the sculptor's two spouses, please do put us out of our misery.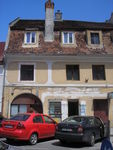 Whilst in Brasov this weekend, my friends took me to str. N. Balcescu, nr. 3, the old house of Cincinat Pavelescu. Of course, he wasn't home, having died in 1943. Sadly however, there wasn't so much as a plaque to show he'd ever lived there. An e-mail and letter are in order destination Directie de Patrimoniu Brasov. How are people supposed to crunch on the fascinations of Romanian culture if the information of such defunct personalities aren't kept up to date. I only knew about it myself having fallen upon it by chance on Google!