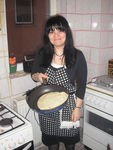 Dear Everyone,
Rosie and I are just back from a great night at Lola's - bbq managed by Flori and Bogdan
on the covered patio, kitchen duty (potatoes, crepes, salad etc) carried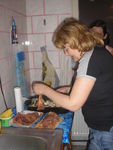 out by Aless and Lola. I was on surveillance duty, which involved pouring wine, holding cigarettes, rescuing would-be cremated crepes and doing nothing in particular. So much wonderful food that we never made it past first course. Lola's crepes with blackcurrant jam and icecream will have to see another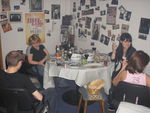 day and the cheese will be Lola and her family's breakfast for the next year. Delicious mici, chops, sausages and fillets, baked potatoes, stuffed mushrooms, green salad, risotto and a deliciously smooth (and rather fatal) cabernet sauvignon, not to mention mad and utterly off the wall silliness resulted in such a lovely evening. We missed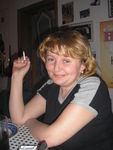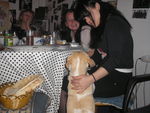 Gaby very much, and assuaged that by watching her dancing a spoof to 'Only You' at Lola's Xmas Party last year! Brilliant! Gaby, give up the day job and hurry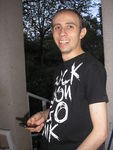 home. That's enough, now!
Busy day tomorrow, with private classes in the morning then Brigitte and Romulus late afternoon . News as it happens.
Have a great weekend.
Love Sarah xox